Sofa Ramps For Pets
The Pet Classics Folding Pet Ramp has a rear leg that easily folds under for storage. Sized to help smaller pets reach a sofa or chair. (12" wide only).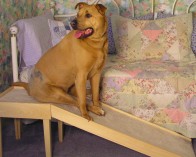 Questions about our products?
Please complete the form below.
Sofa Ramps For Pets
Pet Classics Sofa and Chair pet ramps are 15″ high and available in two styles. The Platform Pet Ramp for sofas and chairs is available in two widths and provides a level landing at the top, making it easy for your pet to step on and off. The Folding Dog and Cat Ramps (available 12″ wide only) have a solid rear leg which folds easily underneath the pet ramp for storage. All Pet Classics indoor ramps are Amish crafted from eastern red oak or maple, engineered for maximum safety and constructed to hold up to 200 lbs!
© Pet Classics LLC 2001 - 2021